AudioNautes, after offering top quality crossovers, decided to offer you also CUSTOM top quality parts, the parts we are using for our crossovers used in our complete systems with GOTO drivers! But also in all our top products and upgrades.
See also the custom Inductors page.
AudioNautes capacitors have:
10um (630V) polypropilene film of highest quality

hand soldered copper terminals

special heat treatment cycle insulated copper for terminals

controlled winding tension for lowest resonances

low ESR and low self inductance
very high temperature and frequency stability
Technical details:
3% tolerance
dissipation factor ≤0,001 @ 1kHz & 20°C ±3°C
insulation resistance ≥ 10Mohm @ V di specifica & 20°C ±3°C
dielectric absorption ≤0,1% @ 20°C ±3°C
Apart the very high quality of design and manufacturing, the most important aspect of these capacitors is the deep study to reduce self resonances. Through a close control of the manufacturing processes all resonances are reduced to an absolute minimum. This is a result of a 2 year research programme. And at a very good price, cheap if compared to famous capacitors with nothing special but the price. Our caps outperform them!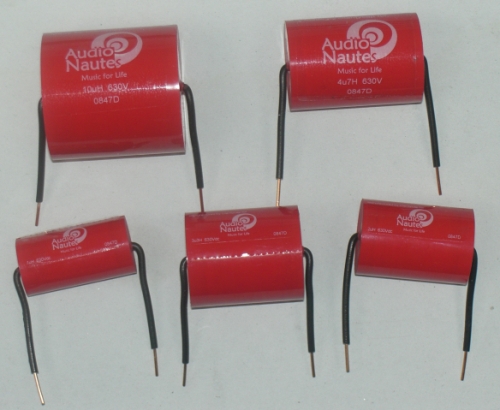 Examples
VALUE & QUANTITY
| | | | | |
| --- | --- | --- | --- | --- |
| Value | Voltage | Size | Price | |
| 4,7uF | 250V | 25x25mm LxD | € 12,00 | |
| 4,7uF | 630V | 46x35mm LxD | € 20,00 | |
| 0,22uF÷50uF | 250V | - | ask | ask |
| 0,22uF÷50uF | 630V | - | ask | ask |