From July 30 to August 3, Castroreale (ME), Museo Civico
During the same period of the Castroreale Jazz Festival (www.castrorealejazz.it) a new audio meeting took place with the name Le Forme del Suono, at the Museo Civico in Castroreale (www.castrorealejazz.it/forme.asp).
From 5pm to 8pm, every day, AudioNemesis and AudioNautes showed the following system:
CD Transport: CEC TL-1 (many thanks to Salvatore Aragona)
D/A converter:

AudioNemesis DC-1

Turntable: VYGER Baltic + arm SME 312 + MC catridge Audio Tekne MC6310
Step-up trasformer: Uesugi Bros-5L
Phono stage:

AudioNemesis PM-1

Line stage:

AudioNemesis TL-1

Power amplifier: AudioNautes TA-1

Speaker system: AudioNautes prototype with GOTO UNIT drivers

Cables: digital -> custom , analog ->i Audio Tekne except the power cable by Audio Innovation (many thanks to Giuseppe Ravidà)

Accessories: AudioNautes in HDG

Mains stabilizer: Nightingale

(many thanks to Salvatore Aragona)
Like in other demos we made, also this time we compared internal and external dacs, analog vs digital versions in real time comparing, etc. Audiophiles listened to their own discs.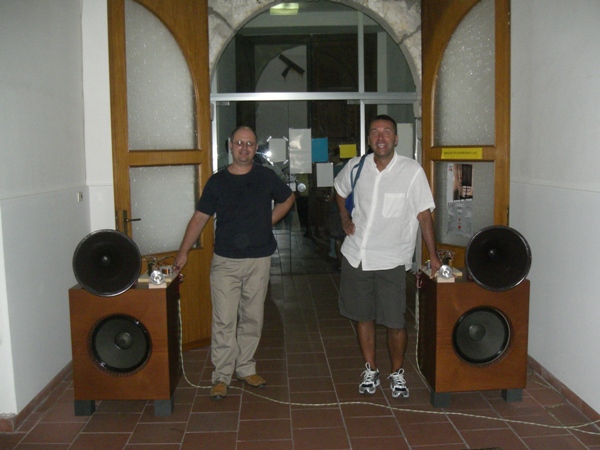 Giuseppe Intorrella and Fabio Camorani at the beginning, between the speakers systems with Goto drivers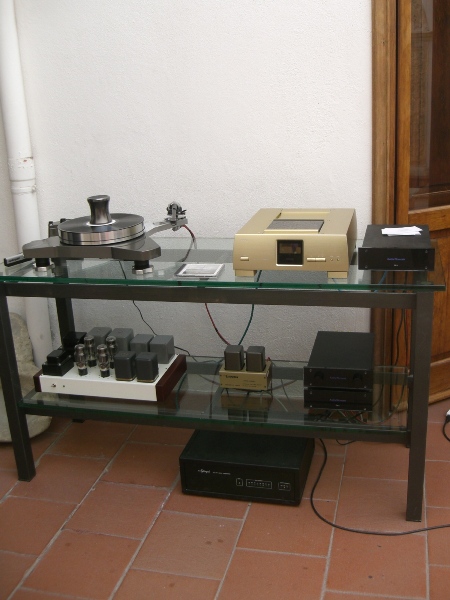 The complete system
The room was not so good, because two big rooms full of echos were in communication with it. In one of these rooms you see the system (above).
Here a few comments written at the entrance book of the Museum:
Tecnolgia e gusto!
Grande iniziativa
Ottimo sistema, pessima acustica
Finché c'è suono c'è speranza
"Altra musica"
Buon ascolto!
Complimenti
Che dire?!
Grande l'emozione delle "Forme del Suono"
Fantastico!!!
Speriamo che questa iniziativa bellissima e coraggiosa darà possibilità di far godere sempre bella musica a Castroreale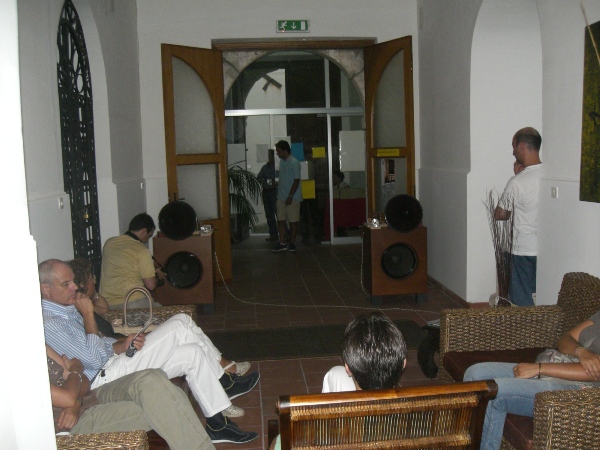 Listening...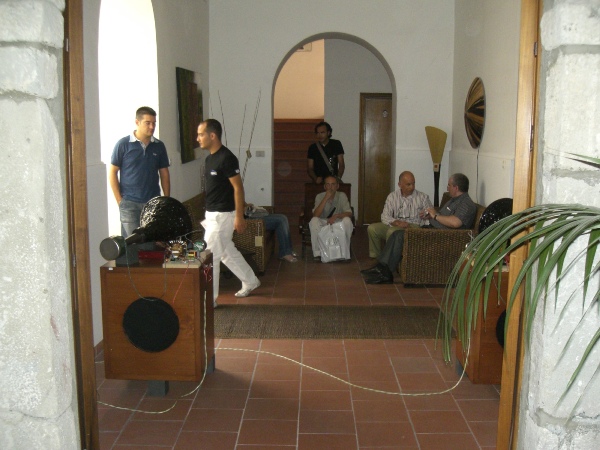 From the entrance of the museum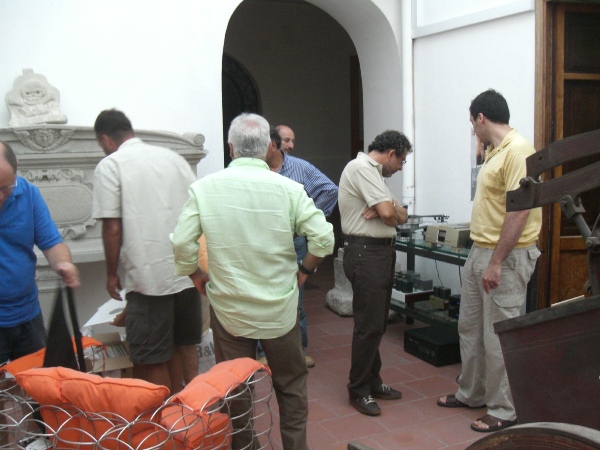 The room with the system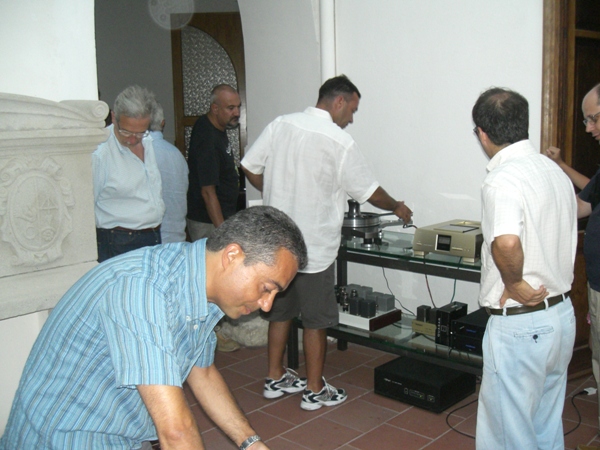 Near the camera Giuseppe Ravidà, behind Fabio Camorani, on the right Salvatore Aragona (at his right, cut, Giuseppe Intorrella)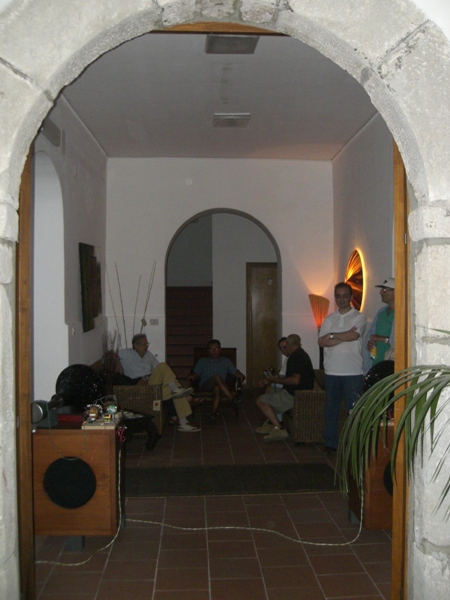 Listening again...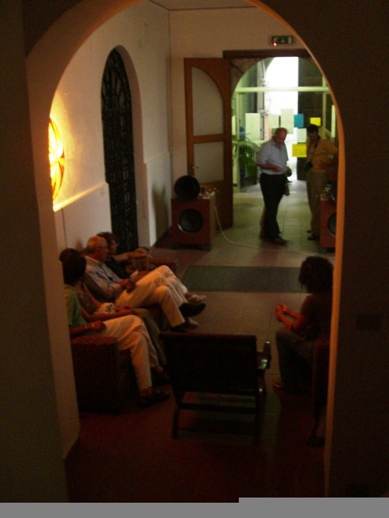 From the stairways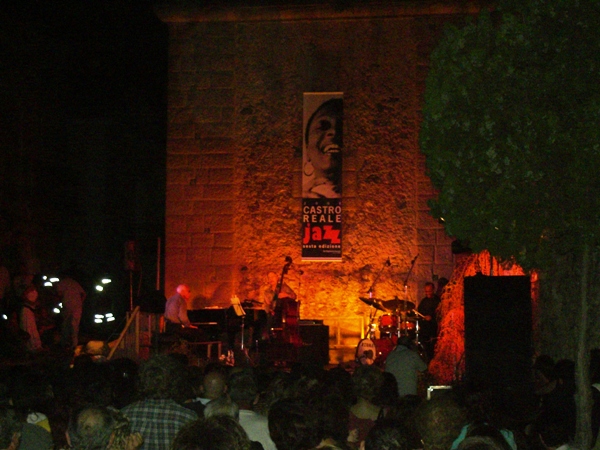 A moment of the concert of July 30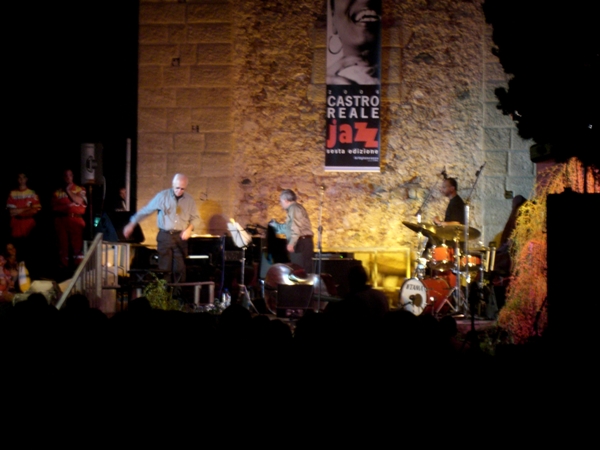 Steve Kuhn and Eddie Gomez