With sponsorship of L'accademia del cattivo gusto
Saturday March 4, 2006, with the unique scenary of Val d'Adige, at the Cantine Albino Armani (www.albinoarmani.com), Dolcé, Verona, AudioNautes celebrated a very important event, with e demonstration of Goto Unit and AudioNemesis products, supported with HDG and more and more!
All day long you could listen to Music via an exclusive system with the new products by AudioNemesis and a high efficiency loudspeaker system using the famous Goto Unit drivers and horn.
We presented not only the famous DC-1 D/A converter, but Dott. Ing. Fabio Camorani, Giuseppe Intorrella and all AudioNemesis staff presented all products of this young brand, such as the new phono MM stage PM-1 (already presented and now available), the new line stages (absolute premiere) LT-1 and LT-3 and the prototype of the new Class A power mono amps!
The same staff presented and discussed about the exclsuive products by Goto Unit.
Wine and food all day long.
The System:
Turntable: Garrard 301 with AudioNautes super HDG base and AudioNautes 620gr clamp in HDG + Ortofon 12" + Audio Tekne MC-6310,
MC step-up transformer: Ortofon T-20

CD transport: Teac P-30 with LClock XO3 + many HDGs inside + special mod,

D/A Converter:

AudioNemesis DC-1

Phono Preamplifier:

AudioNemesis PM-1

Line Preamplifier:

AudioNemesis LT-1

Power amp: AudioNautes TA-1

Speakers: prototype of AudioNautes 3 way with

Goto Unit

horn/drivers

Cables: Audio Tekne, hand made

Accessories: AudioNautes HDG

Stands and tables: cement, bricks and stone
Also the prototype of AudioNemesis PA-1m, a pair of mono class A power amps, the prototype of the line preamp AudioNemesis TL-3 and the prototype of AudioNautes 2 way with Goto Unit drivers, the smallest Goto Unit system.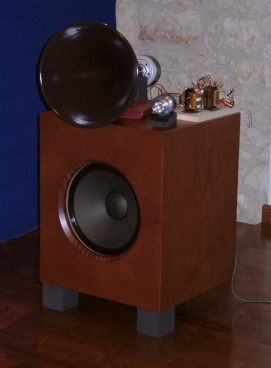 3 way with driver GOTO UNIT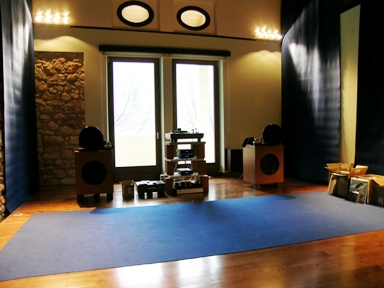 The system in the demo room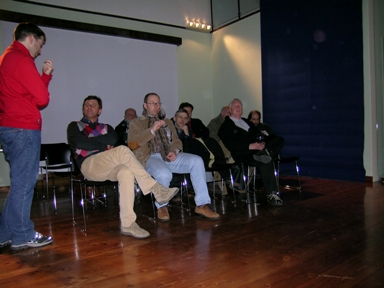 One of the members of the 'Accademia del cattivo gusto is talking to Mr. Albino Armani (seatting). Near Mr. Armani is one the founder of Accademia drinking wine...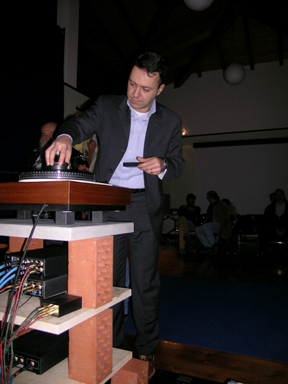 Testing the new TBM 45rpm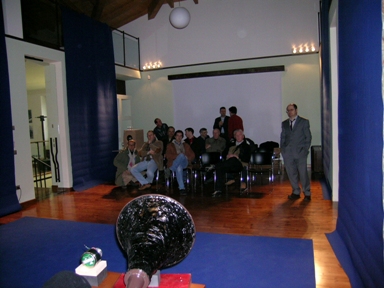 Another moment. On the left Giuseppe Intorrella.