Arcadia Step-Up is a passive transformer pre-preamplifier for MC cartridges, created for audiophiles seeking for max performance. We offer it for different needs and requirements, anyway for top-notch performance.
It's the result of 20 years of research on sound and materials and it proposes for the first time a machined solid HDG (High Density Graphite) housing to better damp vibrations.
The transformers are very expensive
supermalloy EI cores
. Forget amorphous and toroidal cores. Moreover, no internal resistors have been used, the sound signal only flows through one transformer per channel.
The transformers are capsuled separately in Mumetal for top quality shielding.
This is a true Cost-no-Object implementation of a top Supermalloy core transformer.
Arcadia Step-up offers unrivalled performance!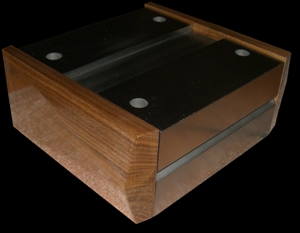 Some features :
100% passive
no resistor inside
no capacitor inside
Supermalloy transformers
mu-metal transformer shielding

machined solid

HDG

housing (+ wood on demand only)
carbon fiber rear panel
gold plated and teflon insulated RCA connectors
input and output RCA (no XLR)
designed and handmade in Italy
wood or lacquer colour on demand